Welcome to my world! This site is made up of stuff that I found on the web, so feel free to take and use anything you want.That's how I got it! Please sign the guest book before you go! If you are an ICQ user, my # is 14810816. Feel free to contact me! If you have any problems, or find a broken link, Please let me know about it.

This page has been visited

times.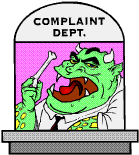 Do your bitchin' here!
The difference between death and sex is that with death you can do it alone, and nobody is going to make fun of you. --- Woody Allen
In the beginning the Universe was created. This has made a lot of people very angry and been widely regarded as a bad move....Douglas Adams
These links will take you to some of my other pages
If you like drinking beer, check this out. Download your FREE "Cool Cans" screensaver!!!!
Here's a picture of me, and you can visit some of my friends.
Links to some weird sites
This will take you to visit some of my friends.
NOT!
Here are some of the animated gifs I have collected, and links to great sites to find more of the same.
Here is a prayer to start your day.
Download some new fonts!
Here is a photo album of some of the funny pictures I have found on the web.
Go here to contact me using my ICQ pager. You can also find links to get ICQ and ICQplus for yourself!!
A picture of my sweetie!
Meet my kid!
Artwork by Virginia Horne!
A photo album of some of the canoe trips I have been on.
If you have finished
MAIL ME
Click here for Cadillac weather.